Division 5 Team - SUNS E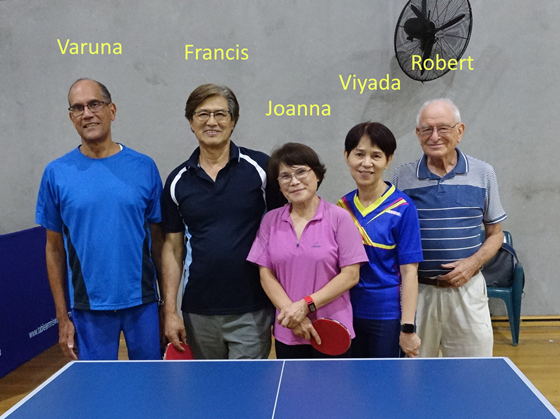 Varuna Wijetange, Francis Seo, Joanna Seo,
Vitada Gow
Competition Endded Oct 2020
Summary of SUNS E Team Performance
The team started the competition with 5 players. Despite losing 2 players, Robert due to Covid-19 and Francis due to promotion to Div4, the remaning 3 played on couragesly and managed to secure 5th position. Hence they qualified to play in the ESF (elimination semi-final) rounds.
They overcame the first hurdle, winning against PCYC 5J 5 - 4 but eventually bowed out of the competition in the next ESF round. They lost to a very strong team 0 - 9
All our players had a lovely time and vowed they would be back next year.

Final: PCYC 5I Junior vs PCYC 5H Junior (@ PCYC) Mon 26th Oct
3rd position: NSL Norths 5

Matches Played:

9. 10th Oct – Away game Vs PCYC 5H Junior
Joanna, Varuna and Viyada played. It is a knock-out semi-final. Unfortunately our team were easily outplayed, lost 0 - 9, and hence eliminated from the competition.
End of the Road. Nevertheless it has been a very enjoyable and entertaining competition to all our players.

8. 9th Oct – Home game Vs PCYC 5J
Joanna, Varuna and Viyada played. We had a narrow 5 – 4 win although PCYC forfeited 2 matches.

Table October 2020


7. 2nd Oct – Home game Vs PCYC 5G
Joanna, Varuna and Viyada played but lost 2 - 7

6. 25th Sep – Home match Vs PCYC 5J
Joanna, Varuna and Viyada played and achieved a narrow 5 – 4 victory.

5. 2nd Sep – Away match Vs Cherrybrook Juniors
Joanna, Varuna and Viyada represented the team. They had a 7 – 2 win.

4. Fri 14th Aug - Away game vs PCYC Juniors
Our opponents played extremely well and we managed to win only 1 singles game. We lost comprehensively 1-8 against young opponents.
2 losses in a row. Keep your fighting spirits up!

3. Tue 4 Aug - Away game vs PCYC 5H
Francis again gave us a flying start winning the 1st game. But then the momentum was lost when we lost the next 3 games, trailing 1-3
But when Francis, Varuna and the doubles combination of Varuna and Joanna won the next 3, we were only 1 game from victory. Alas, only to lose the final 2 games, resulting in a 4-5 lost. Francis, Viyada, Joanna and Varuna represented SUNS E.
What a narrow lost!

2. Wed 29 July - Away game vs Norths Sydney Leagues TTC
Francis, Joanna, Varuna played singles with Viyada filling in for all the doubles. The singles matches were evenly matched, resulting in 3-3. However we won two of the doubles quite well. Final result edging to a bare 5-4 victory.
Good effort once again.

Due to COVID-19, the competition has recently
restarted with revised schedules - July 2020

1. Mon 9th Mar - Away game vs Hornsby RSL, Blue
Francis gave a winning start, winning his singles easily. But then we lost the next 2 and trail 1-2. Having just lost his doubles match, Varuna made amends by winning his next singles in 4 games. 2-2
That provided the momentum for our team. We won all the remaining 5 matches, some hard fought, to a worthy opponent. SUNS Team: Francis, Varuna, Viyada and Joanna.
Result: 7-2 in favour of SUNS E
Congratulations!