All players
Being an Incorporated Association, all players must be registered as SUNS member. An annual club membership fee of $15 is required in order to enjoy SUNS facilities, such as TT social play with all members on Monday morning, Wednesday morning, as well as Friday morning and at night time sessions, and Robot equipment.
Based on a come-as-you-please system, our playing fee is currently $5 per session, which is about the cheapest way to enjoy oneself for about 3 hours
Competition Players



SNDTTA Interclub Competition - Autumn and Spring
Various clubs in Sydneys Northern District (SND) put up teams for the 6 divisions which are Premier, Div 1, 2, 3, 4 and 5. Some clubs have even participated with as much as 3 separate teams for one division. The teams in each division play each other with the top 4 to 6 teams going into a knockout to decide the winners. Teams play a total of 6 singles and 3 doubles games per match. Therefore all teams need at least 3 players although most teams would have more players playing by selection or on a rotation basis depending on each teams procedures and policies.
There shall be at least one match per week. either home or away. We play at SUNS when the draw is at home and at other clubs venues, when away.

To join competitions, players must also become registered members of Table Tennis NSW (TTNSW) for insurance on away games and tournament participation. Current 2021 fees are expected to be $75.00 p.a. All registered players would have the possibility of playing for Table Tennis Australia and Table Tennis NSW approved state and National tournaments.
We participate in the Sydney Northern Districts (SNDTTA) Interclub Competitions for which 2, the Autumn and the Spring competitions, would be held each year. The playing fees for the Sydney Northern Districts (SND TTA) Autumn and Spring competitions are currently $35 p/a.

This chart is a summary of the playing costs: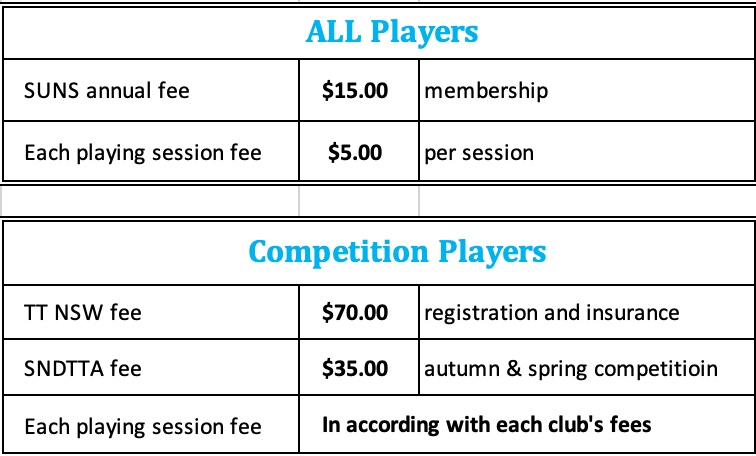 All players joining this competition are graded individually based on previous results and according to the internationally recognised Ratings Central System.

Balls
Training balls are available at the control desk for the use of all players. Please return them after use.

Tournament quality balls can be purchased at member's discounted prices.

Table Tennis Bats/Rackets
As a service to members, budget bats are available for sale at prices between $25 to $60 each. And there are a handful of similar bats on loan to players for each playing session.

Our Committee members and some of our more experience players are always at hand to discuss your equipment requirements.

Please approach the control desk for help and assitance.