Newsletter
SUNS Newsletter – January- February 2020
Hi All,

First, a very "Happy New Year" to all our players and their families. May playing table tennis help you staying healthy in 2020 and beyond !!

If you start reading this newsletter, have a good look at our upgraded website. There are quite a few new pages and features to be admired and we have to thank Leong Tho for taking up the website improvements and future maintenance. We hope to utilise the various possibilities even more in the near future to include posting all members, list the competition players and teams as well as the captains including playing schedules, comp. results, contacts and gradings upgrades etc.etc. I encourage you to utilise this website for our internal communications from now on.

For your information, the coming month we will put the competition teams together. Again, Leong together with YK have already been active in contacting candidates from the senior groups to come playing comp to add to our existing Friday night teams we had last year.

As you know, there are 6 divisions in the SNDTTA District 2020 Autumn competition played all over the North Shore. Half the matches will be home games and played on Friday nights at the Thornleigh Brickpit. Away matches depend on which night the opposition have their playing night, quite often Friday too. Closing date for team entries is Monday 24 February and the assumed start of the comp itself is the week commencing 9 March 2020.

To be able to produce competitive teams in each division, we will have to organise 2 Friday nights before the team entry due date: let's say the 14th and 21st of February. This will allow us to assess each player for the best placing in a team with equivalent ability. Where possible we will account for players' individual wishes.

We aim for 4 person teams, which allows for all players to be able to play on a comp night. The normal rule is 3 players minimal who each play 2 singles and 2 doubles with different partners. By having 4 players we can change this so that if one player is not available we still have a complete team. A 4 person team can play as follows: 3 players play 2 singles each and play 1 doubles match with the 4th player each. A rotating schedule is the best way for a fair share. Players not regularly available can be registered and nominated as reserves and negotiate with the captain when available to play.
We encourage all players interested to come to most of the February Friday nights so that we can start the team selection asap. Playing comp will improve your game considerably and getting your adrenalin going is quite different from social play only.

All comp players need to be registered with TTNSW and SNDTTA. The full cost of 2 district competitions for the full year is $105 pp. I've arranged for registration forms and they are available at the desk on Friday nights. On Playing nights the normal $5 fee per night applies for home matches and other clubs could ask you to pay when visiting for your match.

A final reminder of the Suns AGM on Monday 10 February at 1 pm. All paid up members are invited, If you like to attend, please let us know beforehand for catering purposes..More details are posted elsewhere on this website and on the WhatsAp to all members.

Let's hope you all have an enjoyable Table Tennis year.

Kind regards,
Theo Morsink
President
Snrs Mens doubles Champs Walter & Ray



Snrs Ladies doubles Champs Kerrie & Heide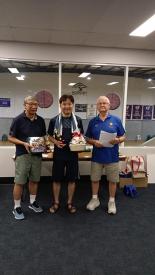 Snrs Mens B singles Champ & runner up Finson and Raymond



Snrs Mens A singles Champ & runner up James & Percy



Snrs Mixed doubles champs Esther & Sonny. Esther also won the ladies singles