31/07/2022
| | | | | |
| --- | --- | --- | --- | --- |
| Venue | Week 1 | Monday, August 8 | | |
| MAC | Div 1 | MacPirates | V | SUNS Assassins |

2022 Spring Season - SUNS Assassins

Joybroto Sarkar (Captain), Hrishi Bhagat, John Sayegh, Peter Nam Nguyen, Guang He Wang, and Vincent Chan
SUNS has two teams in Division 1

SUNS Alpha and SUNS Assassins
(Progress of Team Alpha Spring Season is on a separate web page)
Progress of Team Assassins

19 Sept 2022
SUNS Assassins matches on 19 Sept 2022 - won North Sydney 6:3
Players: Vincent Chan, John Sayegh, Hrishi Bhagat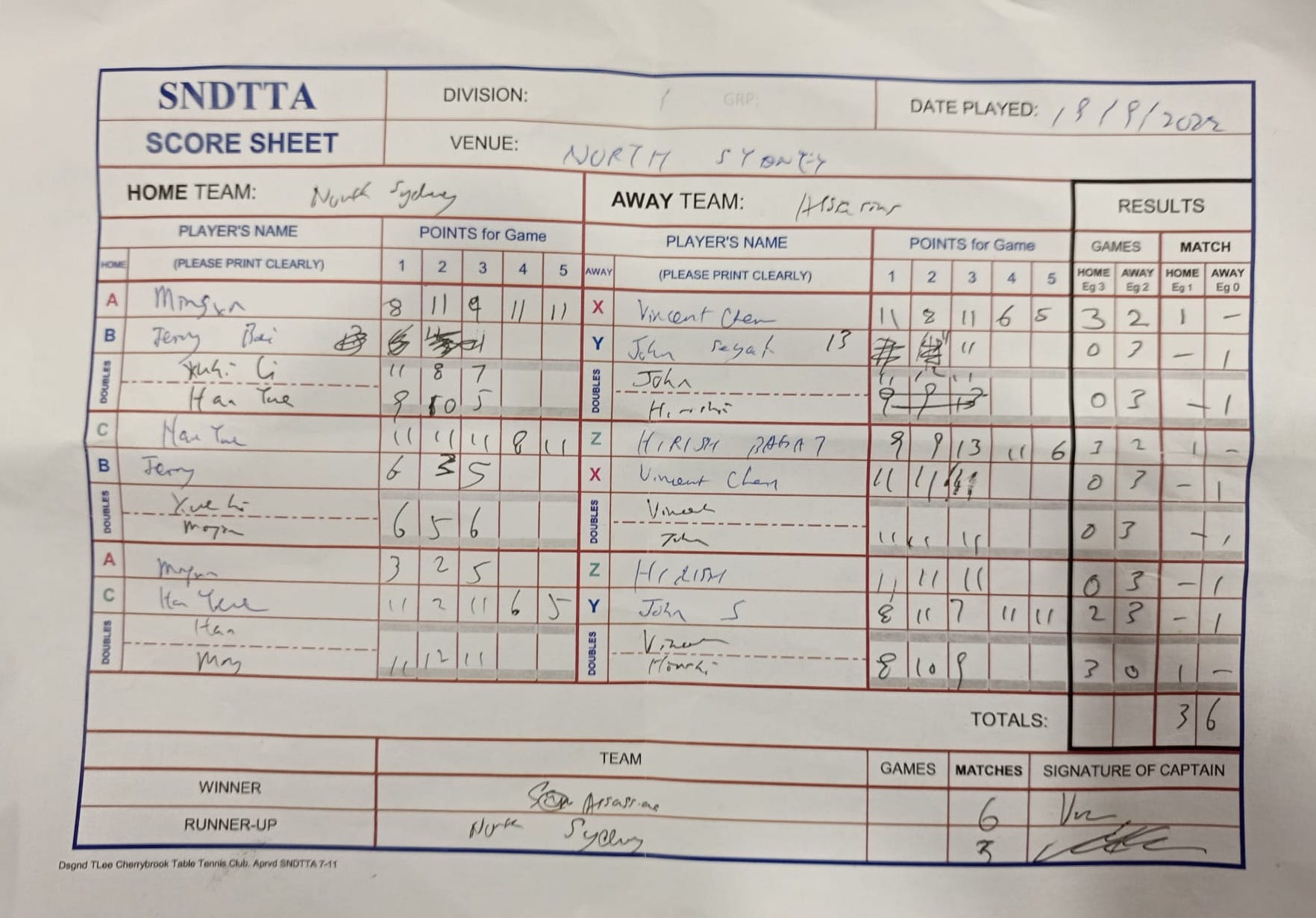 ---
16 Sept 2022
SUNS Assassins matches on 16 Sept 2022 - lost to Willoughby Red 4:5
Players: Vincent Chan, Ada Ly, Joy Broto Sarkar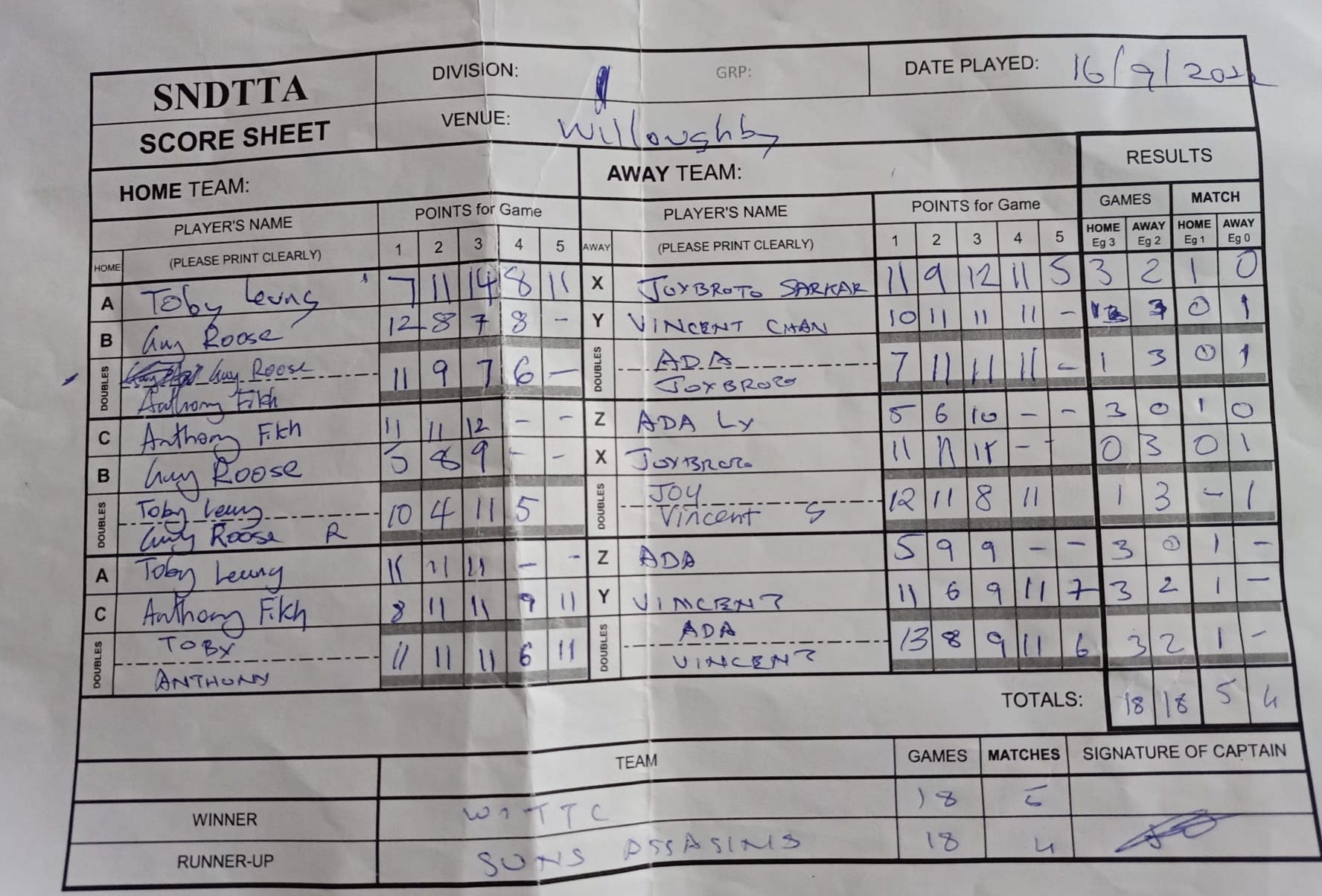 ---
29 Aug 2022
SUNS Assassins matches on 29 August 2022 - won HRSL Black 8:1
Players: John Sayegh, Hrishi Bhagat, Joy Broto Sarkar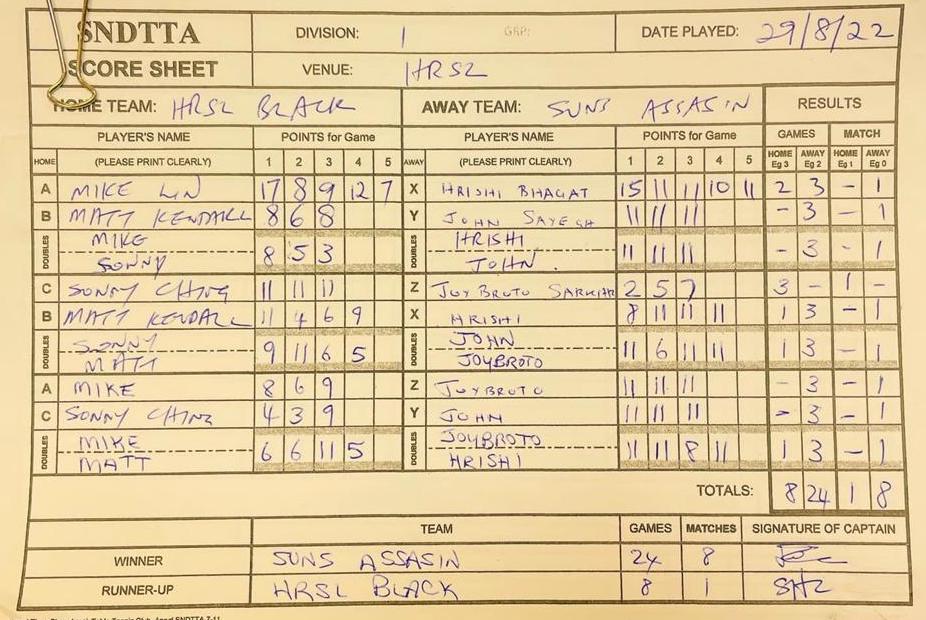 ---
15 Aug 2022
SUNS Assassins matches on 15 August 2022 - won MacForce 8:1
Players: Vincent Chan, Peter Nam Nguyen, Guang He Wang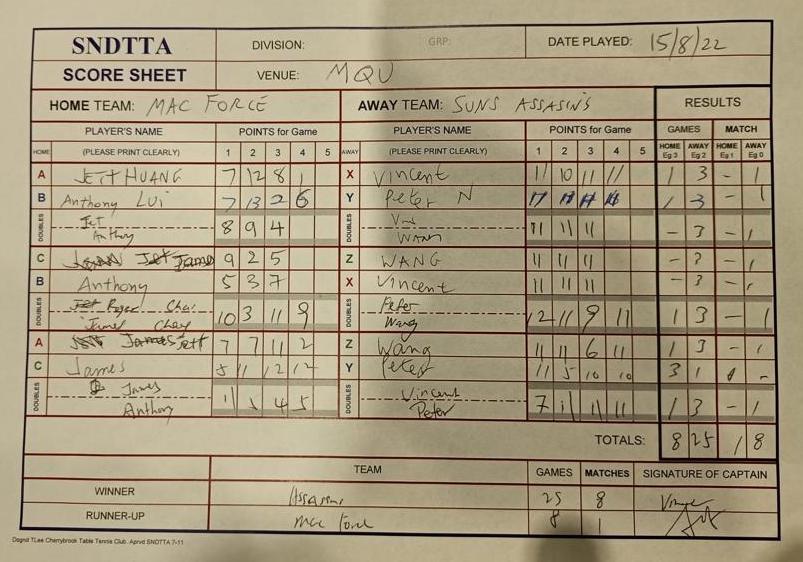 ---
08 Aug 2022
SUNS Assassins first matches in Spring Season on 08 August 2022 - won MacPirates 7:2
Players: Joybroto Sarkar, Vincent Chan, Guang He Wang
---

2022 Autumn Season - SUNS Alpha & SUNS Assassins

SUNS Alpha
Manson Cheng (Captain), Edmond Chiu, Andy Truong, Cedric Ng, Garek Chung, and Zitian (Chris) Zhou

---

SUNS Assassins

Joybroto Sarkar (Captain), Greg Evans, Han Yue, Hrishi Bhagat, John Sayegh, Peter Nam Nguyen, and Vincent Chan


---

8 June 2022
2022 Autumn Season Current Standings





Progress of Team Alpha (Progress of Team Assassins follows)
03 June 2022
SUNS Alpha matches on 03 June 2022 - lost to Willoughby Red 2:7
Players: Andy Truong, Manson Cheng, Edmund Chiu
---
20 May 2022
SUNS Alpha matches on 20 May 2022 - lost to MacForce 4:5
Players: Andy Truong, Garek Chung, Edmund Chiu
---
6 May 2022
SUNS internal teams matches on 6 May 2022, SUNS Assassins - won SUNS Alpha 6:3
SUNS Alpha Players: Andy Truong, Manson Cheng, Cedric Ng
SUNS Assassins Players: Peter Nam Nguyen, John Sayegh, Joybroto Sarkar
---
18 March 2022
Played PCYC Div 1A and we won 8:1 Players whoplayed are: Andy Truong, Garek Chung, Chris Zhou. Chris and Garek in action below.

---
19 July 2022
SUNS Assassins lost narrowly (4:5) in the Div 1 Finals to MacDragon on 19 July 2022
Players: Joybroto Sarkar, Peter Nam Nguyen , John Sayegh

Complementatry from Leong
"This is excruciatingly close matches. They won 5, you won 4. They won 3 five-setters, you won 2. At last, they won 21 games, you won 20 games, and if only you had won the 4th set of the nail-biting last doubles, ... And only lost to the favourites eventually. Well done indeed!"


---
8 July 2022
SUNS Assassins matches on 8 July 2022 - won semi-final against PTTC 6:2
Players: Joybroto Sarkar, Peter Nam Nguyen , John Sayegh
---
20 May 2022
SUNS Assassins matches on 20 May 2022 - won MacDragon 6:3
Players: Han Yue, Hrishi Bhagat, John Sayegh
---
15 April 2022
SUNS Assassins matches on 15 April 2022 - won MacForce 6:3
Players: Vincent Chan, Joybroto Sarkar, Edmund Chiu
---
18 March 2022
SUNS Assassins lost the match to PCCT D1 3:6
Players: Joybroto Sarkar, Hrishi Bhagat, Han Yue