Notice of AGM
To adhere to Covid19 regulations and to cater for lunch
please register your attendance by Monday 15th February
Thank you for your cooperation.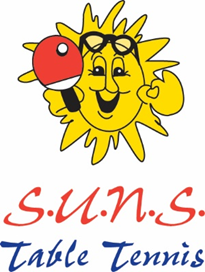 Notice of 2020
Annual General Meeting
Notice is hereby given that the AGM of Suns TTA Inc. will be held on Wednesday the 17th of February 2021 at our playing venue "The Brickpit", 1 Dartford Road, Thornleigh, commencing approx. 1pm in the Mezzanine room upstairs.

All members are invited but the Secretary, email: ykwhye@yahoo.com.sg must be advised of attendance at the latest 3 days prior to the meeting. A registration list will be made available at the Covid Marshall's desk.
AGENDA
To consider the minutes of the 18th AGM held 10/2/2020.
To receive and consider the financial report F/Y 2020.
Election of new committee:
President, Vice President, Secretary, Treasurer and Public Officer, 3 Session Managers and any other committee members.

** Any Other business or suggestions to improve the running of SUNS TTA Inc.
Closure of the meeting.
** Any nominations should be in writing and handed in prior to the start of the meeting. Nomination and Proxy Forms are available from the front desk on the court.