Results 2019 Suns'27th Club Championships
Singles
Premier Div'n Final
: Bob Liang beat Norman Zhang 4-0 in a display of superb attacking skills to retain the title he won last year.
Division 1 Final
: Chris Zhou and Dennis Lee fought a close 3-2 battle with Chris the eventual winner in a match that thrilled the many spectators.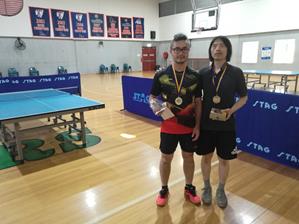 Division 2 Final:
Alexander Li beat Charlie Huang convincingly with a 3-0 score.
Division 3 Final:
In the finals pool of 3 players: Joybroto Sarkar, Sam Yang and Percy Wong , the latter missed out and Joybroto claimed the gold medal with 2 wins and Sam the silver medal by coming 2
nd
.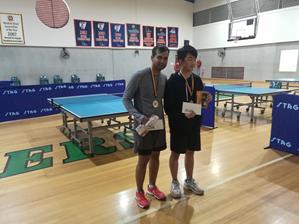 Division 4 Final
: Kurt Liu and veteran Leong Tho had a very close battle with Kurt the winner with a 3-1 score.
Division 5 Final
: This final between Esther Lam and Spencer Lam was delayed to Monday morning due to an injury Incurred by Esther. Both are regular attendees of the senior daytime sessions at Suns. Spencer was the clear winner with a convincing 3-0 score and is to be congratulated for his sportsmanship to allow the deferment.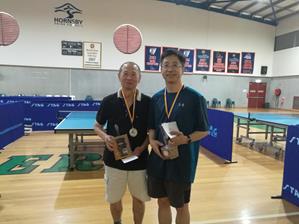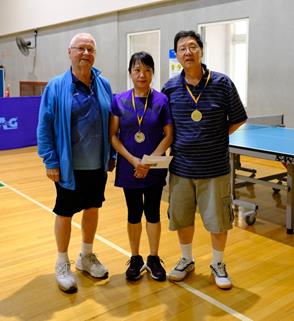 Doubles Results:
Premier/Div.1 Combined
: Bob Liang & Norman Zhang
Division 2/3 Combined
: Joybroto Sarkar & Hrishi Bhagat.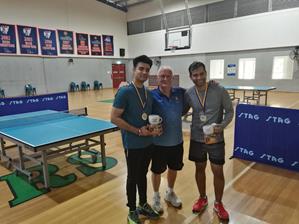 Division 4/5 Combined:
Leo Lu & Marco Chan.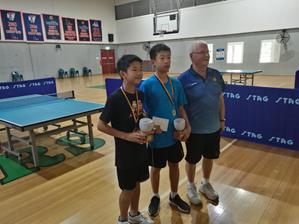 Comments:
This championship was well attended and the most pleasing aspect was the emergence of senior Suns players to participate in an official tournament. We have been asked to arrange the results to be included in the RC rating system, which will be very useful for rating new players. It is therfore highly recommended for SNDTTA to initiate that all clubs in the District should have their own championships results recorded in the Central Rating System.